Advance Tech Slip-On Orthotic Covers
Internet Special $17.95 per pair
or 2 pair for $30.00 plus S&H
Fabric color may vary.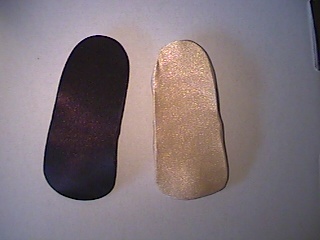 Our new orthotic covers add fashion to your Advance Tech Orthotics. The Spandex (tm) 4-way stretch moisture wick material helps pull moisture away from skin while cosmetically enhancing the orthotic in open shoes and sandals. It also provides a fabric liner for people that wear our orthotic in heels, sandals, and western boots, when wearing the orthoitic next to the skin or between hosiery and foot is required. Machine washable and available in black and nude.
Our covers are designed to fit our 3/4 lenght semi-rigid orthotics. They will not fit full length orthotics.